Overcome Stage Fright
Causes and cures
for violin and viola players
Come to the workshops on the New Approach by Kató Havas
Where? When?
Stage fright can seriously affect players and can put a stop to a student or professional career.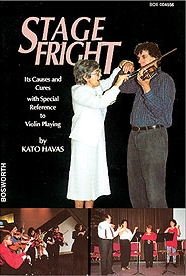 More and more, people tend to resort to drugs but is this the only option? Do they address the causes and really help overcome stage fright?
There is a book, Stage fright by Kató Havas, that is focused on this aspect, a serious problem that many players and most violin & viola players experience, offering effective solutions.
Now everybody talks about this and many have been written with these words in their titles, but Kató Havas's book Stage Fright was the first and original book ever written on this!
Published in 1973, is based on her experience of the application, for about fifteen years (then), of the New Approach in teaching.

By teaching the New Approach, Kato Havas realised that the elimination of physical tensions made playing easier and this in turn reduced the emotional tension, was useful to overcome stage fright, the nerves connected with performing for an audience.
---
What's written in Kató Havas books can be applied to both violin and viola playing.
The books and other teaching material by Kató Havas have been published over many years, since 1961 and they are still selling! Here below are the publication dates in chronological order:
- A new approach to violin playing, 1961;
- The twelve-lesson course, 1964;
- Stage fright - Causes and cures, 1973;
- the teaching DVD, 1989;
- videos of Kató Havas workshop, 2008.
By studying them in chronological order you'll notice some slight differences. As Kató Havas herself says in Stage fright, these changes in the terms used and in the indications, based on teaching experience, became necessary in order to simplify more and more, eliminate those terms, exercises, movements that cause physical and mental tensions.
Therefore each book/video is a more in-depth explanation of the previous ones, so it's highly advisable to read in this website the pages about the various books, then read all the books, watch the teaching DVD and the workshop videos available with subtitles.
If you have doubts on how to resolve various problems and so far you haven't found answers, I warmly recommend them to you!
---
Buy Kato Havas' books      Buy the teaching video - DVD
---
Playing an instrument is not just a matter of moving the fingers, it has to do with character, the essence of the person. Stage fright can come from other serious situations of life that cause the player to lose his/her confidence in his ability to control situations, therefore the player loses confidence in his ability to control the movements necessary to playing. There are many who play very well, despite a lot of tensions, pain and aches and nerves. What a price to pay! Besides this, if one relies only on fingers' mechanical movement, everything may go to pieces when external factors, having nothing to do with music, interfere and a shake a person's confidence. I'm very grateful to Kato Havas for what she taught me and for the help she gave me to get to play with real joy.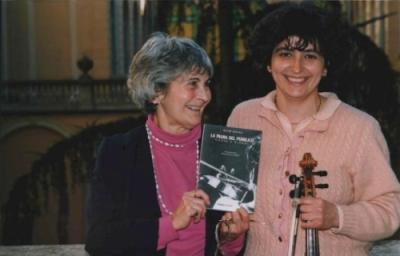 Kató Havas and I when the Italian version
of the book was published
Stage Fright Book Contents
This book too received a very positive comment from Yehudi Menuhin.

"Dear Kató Havas, I would like to write you a second fan letter, as I believe I have already done so some years ago, to congratulate you on your book "Stage fright". It is the most realistic and practical approach imaginable. It stresses the real reasons and not the false ones... a book that should be worth its weight in gold to every student and many a performer."
Yehudi Menuhin
The book examines in detail the causes of all the fears most of players have, giving practical solutions to them. These are the chapters, for each fear causes and cures are explained.
I)             A GENERAL SURVEY

        1.THE SHAME ATTACHED TO STAGE FRIGHT
        2.THE SYMPTOMS
           a) What is anxiety?
        3.ARTIST-AUDIENCE RELATIONSHIP
II)         THE HUNGARIAN GYPSY VIOLINIST
III)       THE PHYSICAL ASPECTS

        1.THE FEAR OF DROPPING THE VIOLIN
        2.THE FEAR OF THE TREMBLING BOWING ARM
           a) The strokes
        3.THE FEAR OF BEING OUT OF TUNE
           a) The fourth finger
        4.THE FEAR OF HIGH POSITIONS AND SHIFTS
           a) The high positions
           b) Shifts
IV)       THE MENTAL ASPECTS OF STAGE FRIGHT
        1.THE FEAR OF NOT BEING LOUD ENOUGH
           a) Hearing
           b) Listening
        2.THE FEAR OF NOT BEING FAST ENOUGH
        3.THE FEAR OF MEMORY LAPSE
        4.THE POWER OF WORDS

        3.THE POWER OF IMAGINATION
V)       THE SOCIAL ASPECTS
        1.THE FEAR OF NOT BEING GOOD ENOUGH

VI)       CONCLUSIONS
        1.THE ART OF PRACTISING
        2.SUGGESTIONS FOR EXAMINATIONS, AUDITIONS, COMPETITIONS, PERFORMANCES
        3.THE SALIENT POINTS IN PRACTISING

Buy Stage Fright in English or German or Italian

Organize a workshop on the New Approach
---
Listen to my reading of the book Stage Fright
---
You may want to read more books by Kató Havas, so here they are:
A new approach to violin playing
The first book published. It talks about playing using the natural, fundamental balances of the body, which prevent and eliminate physical tensions, tendonitis, stage fright
The 12 lesson course in A New Approach to violin playing
The New Approach organised in 12 lessons, with practical exercises and pieces to play as a pupil-teacher duo. For beginners and advanced players as well

The violin and I
Kató Havas' autobiography, with the story of how the New Approach came to life and the correspondence, which went on for years, among readers on The Strad magazine

Book a twelve lesson course with me

Buy Kato Havas books
Buy the teaching DVD
Go to Kato Havas (with videos of a workshop)
Go to Violin and viola books
Go to Violin and viola teacher
Go to Home

I help violin & viola players play freely, without pain, injuries and stage fright.
Click here to learn how
---