Here are some comments about my viola and violin teaching from my pupils

Here are some comments and testimonials about my teaching and coaching from different violin and viola players who studied with me for longer or shorter period. They are from players of different levels and ages, whom I have helped play more freely, reducing their pain and nerves, enjoying making music. They wrote very kindly I am very thankful to them.

I teach the Havas New Approach, that I've learned directly from Kato Havas through her coaching, by translating 3 books of hers in Italian and through exchange of views with her over many years, almost twenty years.

Click on the images the enlarge them and see the original message.
More students' comments here (in Italian). You can also read some newspaper reviews and testimonials about my playing

---
Alison, Oxford, UK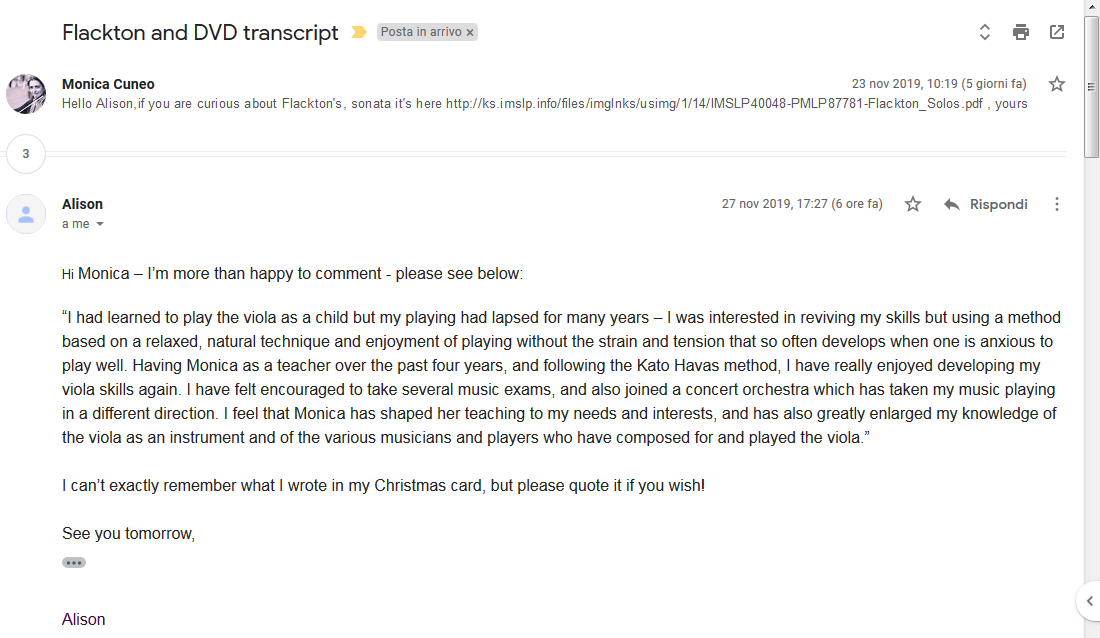 "I had learned to play the viola as a child but my playing had lapsed for many years – I was interested in reviving my skills but using a method based on a relaxed, natural technique and enjoyment of playing without the strain and tension that so often develops when one is anxious to play well. Having Monica as a teacher over the past four years, and following the Kato Havas method, I have really enjoyed developing my viola skills again. I have felt encouraged to take several music exams, and also joined a concert orchestra which has taken my music playing in a different direction. I feel that Monica has shaped her teaching to my needs and interests, and has also greatly enlarged my knowledge of the viola as an instrument and of the various musicians and players who have composed for and played the viola."
Alison, Oxford UK
November 2019

---
Lily, Oxford, UK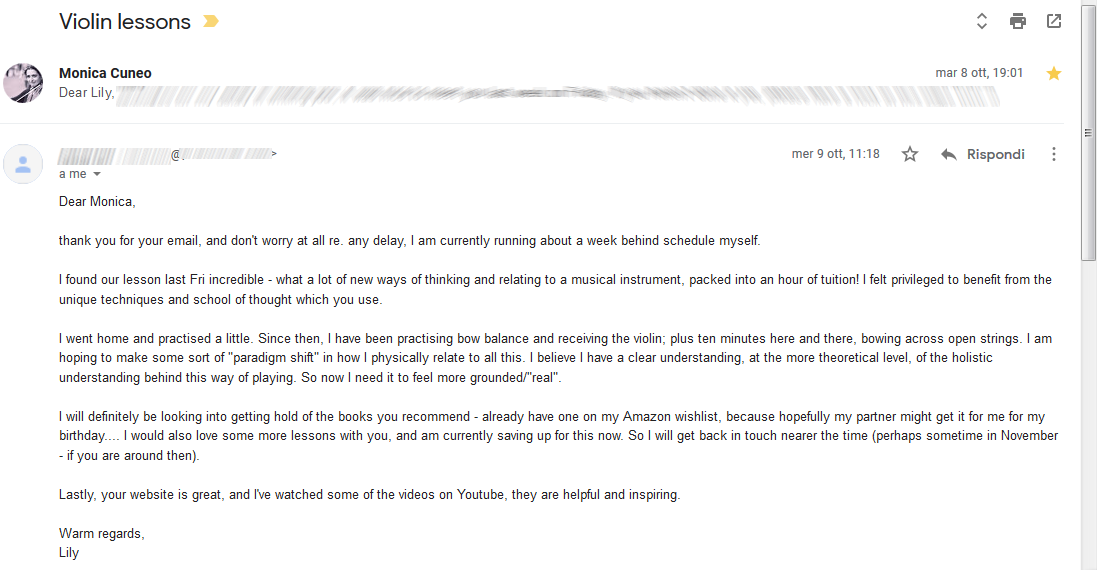 I found our lesson last Fri incredible - what a lot of new ways of thinking and relating to a musical instrument, packed into an hour of tuition! I felt privileged to benefit from the unique techniques and school of thought which you use.

I went home and practised a little. Since then, I have been practising bow balance and receiving the violin; plus ten minutes here and there, bowing across open strings. I am hoping to make some sort of "paradigm shift" in how I physically relate to all this. I believe I have a clear understanding, at the more theoretical level, of the holistic understanding behind this way of playing. So now I need it to feel more grounded/"real".

I will definitely be looking into getting hold of the books you recommend - already have one on my Amazon wishlist, because hopefully my partner might get it for me for my birthday.... I would also love some more lessons with you, and am currently saving up for this now. So I will get back in touch nearer the time (perhaps sometime in November - if you are around then).

Lastly, your website is great, and I've watched some of the videos on Youtube, they are helpful and inspiring.

Warm regards,
Lily
Oxford UK
October 2019
---
Rae, USA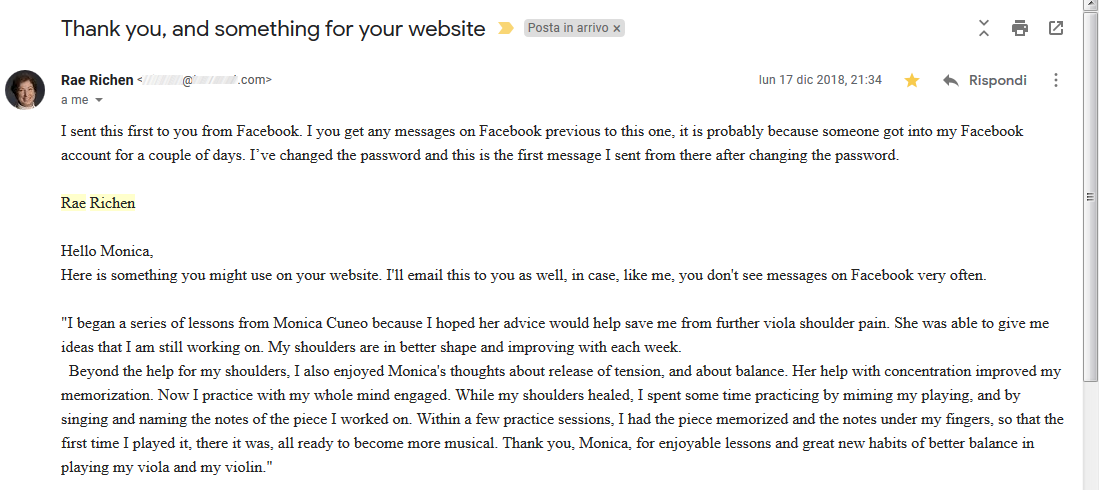 "I began a series of lessons from Monica Cuneo because I hoped her advice would help save me from further viola shoulder pain. She was able to give me ideas that I am still working on. My shoulders are in better shape and improving with each week.

Beyond the help for my shoulders, I also enjoyed Monica's thoughts about release of tension, and about balance. Her help with concentration improved my memorization. Now I practice with my whole mind engaged. While my shoulders healed, I spent some time practicing by miming my playing, and by singing and naming the notes of the piece I worked on. Within a few practice sessions, I had the piece memorized and the notes under my fingers, so that the first time I played it, there it was, all ready to become more musical. Thank you, Monica, for enjoyable lessons and great new habits of better balance in playing my viola and my violin."
Rae Richen (USA)
December 2018

---
---
Gabriel, Chile


"È stata un'esperienza molto buona conoscere Monica e assistere ai suoi incontri. I concetti del nuovo approccio sono molto interessanti ed utili per avere più libertà e sicurezza nel suonare."
Gabriel Dawabe (Chile)
September 2018
---
Yanying, Oxford UK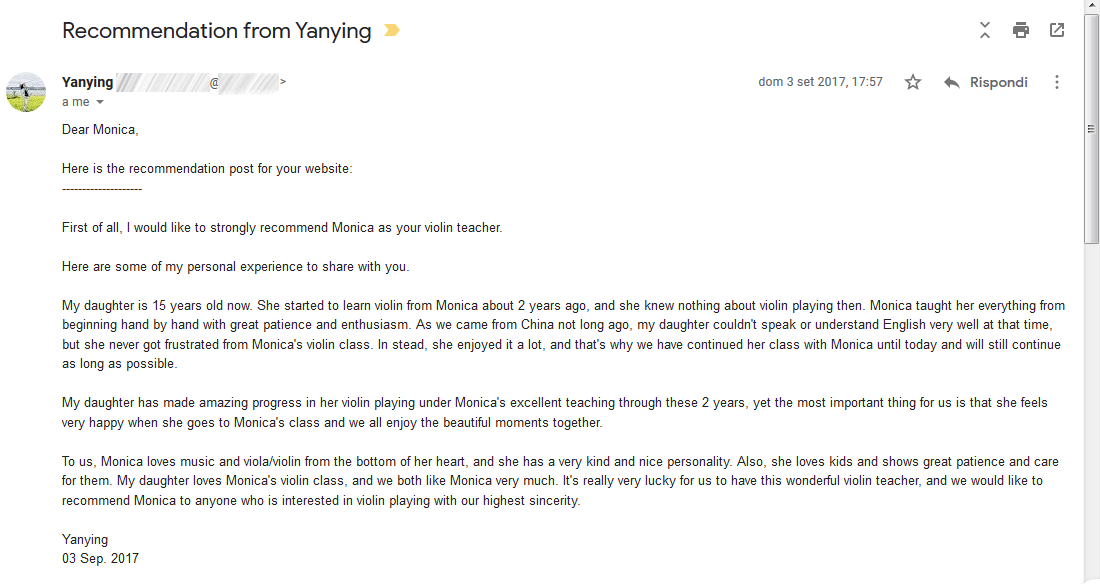 First of all, I would like to strongly recommend Monica as your violin teacher. 

Here are some of my personal experience to share with you.
My daughter is 15 years old now. She started to learn violin from Monica about 2 years ago, and she knew nothing about violin playing then. Monica taught her everything from beginning hand by hand with great patience and enthusiasm. As we came from China not long ago, my daughter couldn't speak or understand English very well at that time, but she never got frustrated from Monica's violin class. In stead, she enjoyed it a lot, and that's why we have continued her class with Monica until today and will still continue as long as possible.

My daughter has made amazing progress in her violin playing under Monica's excellent teaching through these 2 years, yet the most important thing for us is that she feels very happy when she goes to Monica's class and we all enjoy the beautiful moments together. 
To us, Monica loves music and viola/violin from the bottom of her heart, and she has a very kind and nice personality. Also, she loves kids and shows great patience and care for them. My daughter loves Monica's violin class, and we both like Monica very much. It's really very lucky for us to have this wonderful violin teacher, and we would like to recommend Monica to anyone who is interested in violin playing with our highest sincerity.

Yanying (Oxford UK)
03 Sep. 2017
---
Do you want to play violin or viola more freely, easily and happily in a shorter time? Click on the picture below and then get in touch

---
I help violin & viola players play freely, without pain, injuries and stage fright.
Click here to learn how
---