The workshop in Oxford on the New Approach to string instruments, based on Kató Havas' works, took place from Friday 31 August to Sunday 2 September 2012, in the beautiful college St Edmund's Hall, run by my colleague and friend violinist Caroline Duffner and myself. This too was a great occasion, with participants from as far as Japan, Italy, Spain, Austria, as well as from nearer places such as London, Manchester and Gloucestershire, aged from 22 to 82. Thanks a lot to all participants.


---
---

As usual, like previous workshops

,

the

workshop in Oxford on the New Approach was open to everyone

, in particular violinists and violists, of all styles and levels so our participants included

students

,

amateurs

,

teachers

and

professionals

.

As already said, many principles

of the New Approach

can be applied also to other instruments and indeed it's very useful to see this, but this time we had all violinists, I was the only viola player.

All participants already knew something about the

New Approach

, having read one or more books, watched the videos and the teaching DVD and one of them had been at my previous workshop in Atina.

They came to Oxford to experiment it first hand and ask their questions. Another important aspect of this workshop was that they could see it explained by two different players, Caroline and I, violin and viola.

Here you can see photos that illustrate some of the New Approach principles, the first is that of playing with the

movements originating

not from the fingers but

from the centre of the person

, from

the shoulders

("from inward outwards", as Kato Havas says).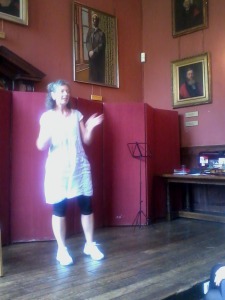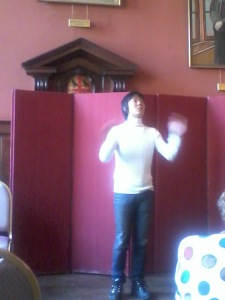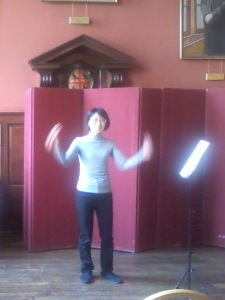 It all starts with the

rhythmic

pulse

throughout the body, to

eliminate the physical

blockages

. This alone releases a lot of tension.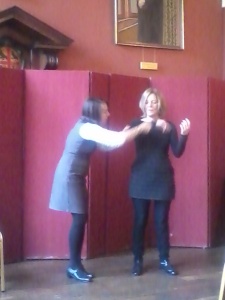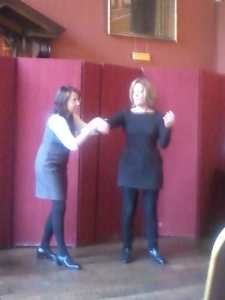 Miming the right arm movement



Then you can see the

miming

the

right arm

and the

left hand

movements before playing, saying the note names, very important to coordinate everything in one central point.

Everybody had the opportunity to play and after some initial shyness, as usual, everybody enjoyed it. Some players had never played for any sort of "audience", so this in itself was an accomplishment.



Singing and

clapping

a piece of music with the

rhythmic

pulse

and the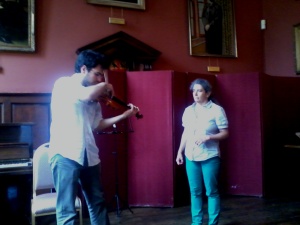 imagination

before playing it changes completely the way one plays it later in terms of tone quality, expressivity and fluency of the music. As in all workshops, everyone could experience on himself and see in all other violin players the change from "before" and "after" singing.

On Saturday night we went to an Italian restaurant and at the end of the night one of the participants entertained us and other customers with a lovely

solo

, much appreciated by everybody.

During the workshop breaks a couple of violin players had been "

fiddling about

" with the Double concerto (concerto for two violins) by Bach, so toward the end of the three days, in the afternoon we played it all together, just for our own fun and to apply some of the concepts just learnt: we sang and clapped before playing the various movements, with the participants alternating in playing the solo parts.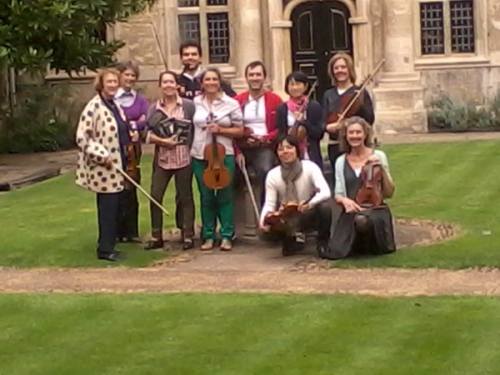 Participants at the workshop in Oxford


Again, having a mixed group of participants is very good, because everyone can see that nearly everybody has the same problems and that the application of the New Approach principles can equally be of

benefit

to more or less advanced violin players,

at all levels

!

As Kato Havas says, the New Approach concepts are incredibly simple: the use of

natural

movements

of our body, not forced ones,

playing with our head

, not with the fingers. They can be acquired, not in one week, by practicing

very slowly

, being focused even for a short time, rather than practicing mechanically for two hours. It takes some time to be able to put them into practice completely, but they can be learned in a short time. Surely it takes less than the time most players have already spent learning the violin, and with better results.

Caroline and I aim at repeating this summer workshop in Oxford and make it bigger and bigger, we hope to see you next year!

Information on the New Approach and Kató Havas, with videos of a workshop


Some students' answers to: What have you learnt that you think you can apply?

singing notes, rhythmic pulse, giving hand and thumb

Good for practice, ease of playing, good method.

right arm movement, shoulder joint, sing and clap exercise



left

hand,

singing notes, clapping, miming

See you on the next occasion!


---
---
You too can organize a workshop, read here how to do

To learn more about the New Approach by Kato Havas:

Watch Kato Havas' workshop, with videos
Teaching DVD: causes and cures of physical injuries and anxiety
Violin and viola books
---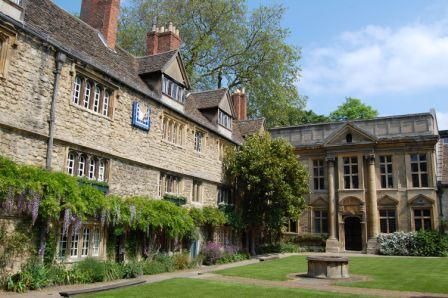 The workshop in Oxford was hosted in the beautiful college St Edmund's Hall



Click on the pictures to enlarge them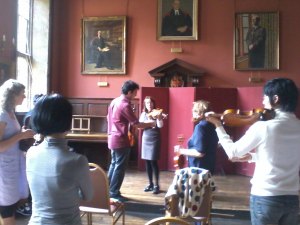 Showing the "

no violin hold

" with a free left arm



Showing the "

no bow hold

"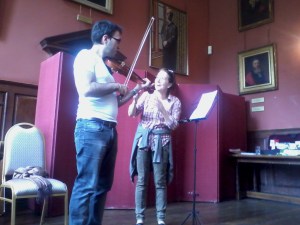 The left
hand, the
giving hand

, and the

interval shapes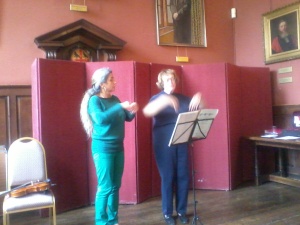 Singing and clapping before playing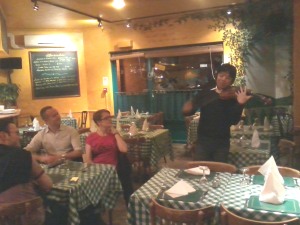 Grand finale

of the workshop in Oxford at Italian restaurant

Send your e-mail address and name to receive information on next workshops