Viola player
There is something called viola player, otherwise called violist (which is not violinist misspelled, as someone and even the Italian Google might think!) and I am one of those. The viola (and viola players consequently) are almost unknown to the public, so I've done something to remedy this lack of information, you'll find a link at the end of this page.
Here I'm supposed to write what I've done, so here is a short overview in a very colloquial style (as opposed to a dry CV style), so I hope you enjoy reading it and find it interesting and maybe you can get some ideas for yourself.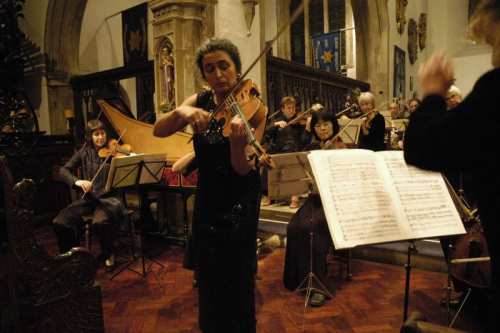 Stamitz's Viola concerto in the church of St. Michael at the North Gate, Oxford
Student viola player
In short, I'm Italian, studied viola  in Italy at the "G. Verdi" Conservatoire of Music in Milan, and also baroque performance practice. Since I always loved travelling and I wanted to learn English, as a student I decided to attended several chamber music and orchestral music courses in United Kingdom (including Canford Summer School of Music, Lake District Summer Music School with Gabrieli and Chilingirian Quartets, Rehearsal Orchestral in Edinburgh) which were very useful for all my purposes (of improving as a viola player and in English as well as of travelling and visiting new places).
Working viola player
Already before and, even more, after the end of my studies, I worked as a freelance, performed extensively with many symphony and opera houseorchestras in different parts of Italy, such as Orchestra Sinfonica della RAI, Milan; Orchestra del Teatro Massimo "Bellini", Catania; Orchestra Filarmonica Italiana, Piacenza; summer opera seasons in Taormina and rest of Sicily; opera seasons at Teatro Sociale, Como; Orchestra Sinfonica della Provincia di Lecce; Orchestra Sinfonica Abruzzese, L'Aquila; Orchestra Filarmonica Lavinia, opera seasons; Orchestra del Teatro del Giglio, Lucca: Puccini Opera Festival in Torre del Lago; Orchestra del Teatro Lirico, Cagliari and many more.
This way I acquired a broad knowledge of and experience in opera and symphonic repertoire (and a bit more travelling too). I also had been playing in chamber music groups and as a soloist.
In 1991 I was part of EUBO (the European Union Baroque Orchestra) conducted by Roy Goodman, with which I took part in the most important European festivals (great music and great places!).
Violin and viola teacher
I've alway been interested in the different aspects and views of music education and string teaching issues, so I read extensively writings by and about Geminiani, L. Mozart, Auer, Tertis, Kreisler, Primrose, Havas, to know different points of view and solutions proposed.

I also enjoy teaching violin and viola, helping the students to overcome their problems, read more about how I teach in this page.
Then, following the study and the translation of books by the famous violin player and teacher Kató Havas, I attended courses, run by Kató Havas herself in Oxford, about teaching violin and viola, becoming specialized in the prevention and elimination of problems and physical injuries (tendonitis etc.) caused by playing violin and viola and problems related to nerves during public performances.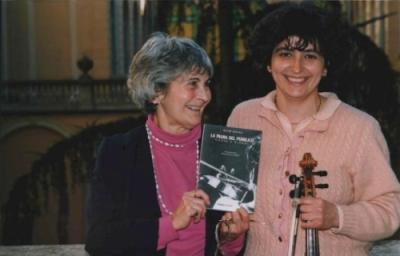 With Kató Havas when the Italian version of the book
"Stage fright" was published
These are issues have recently become very burning, there are even clinics to cure musicians' physical problems, not to mention the problem of more and more musicians who make use of medical drugs or other substances to cope with tension in view of concerts or other public performances. Kató Havas was indeed ahead of times in 1961 when she wrote her first book on these subjects; furthermore she offers solutions which tackle the cause of the problem, not the symptom (and don't have side effects).
Viola player and music translator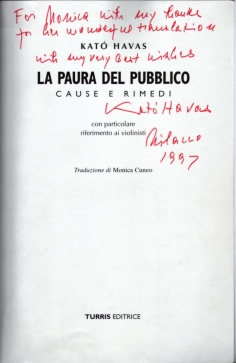 In addition to my activity as a viola player, thanks to my acquired knowledge of the English language and an interest developed for the subject of translation, I've been able to translate into Italian some  musical works, including the autobiography of the violist William Primrose and three books about violin and viola playing and teaching by Kató Havas (you can read more about these books).
I also translated the lovely children's musical tales "Journey into jazz" by Gunther Schuller and "Tubby the Tuba" by George Kleinsinger for an orchestra performance in Milan, a computer music educational game based on Mozart's Magic Flute and a book about the opera La Nave by Italo Montemezzi.
I really enjoyed doing these translations and I like to think that by doing them more fellow musicians and music lovers can know and enjoy these works.
Viola player in Oxford
At a certain point in my life I decided that I wanted to change a few things, especially about viola playing. So in 2003 I temporarily moved (I'm still there, though!) to the beautiful city of Oxford, in UK, seeking the advice of the great violin player and violin and viola teacher Kató Havas, choosing to follow her advice and apply her method and "philosophy".

In the beautiful inspiring Oxford I also met the violin player Caroline Duffner. After going through different paths in our musical careers, having common views on music making, we decided to form the Duo Concertante to explore and specialize in the unusual yet rich and charming repertoire of Sinfonia Concertante (Double Concerto) for violin, viola and orchestra.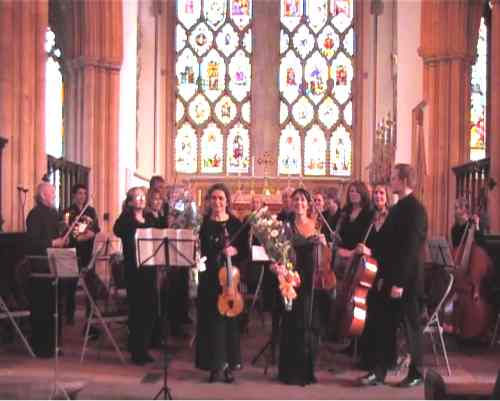 A performance of Mozart's Sinfonia concertante for violin, viola and orchestra in Dorchester Abbey, Oxford
Cadenza from Mozart's Sinfonia concertante for violin, viola and orchestra
Also I've been performing regularly as a soloist, with piano (among others, Brahms, a programme of Italian music with works by Boccherini, Rolla, Paganini) and orchestra, including Bach's Brandenburg Concerto n.6, Telemann's and Stamitz's viola concertos, Mozart's Sinfonia Concertante for violin, viola and orchestra, the rare Concerto for clarinet, viola and orchestra by Bruch, just to name a few.
About the viola
Being so mad about music and the viola, wishing to make classical music and especially the viola, better known, I've created a website about the role of viola, www.viola-in-music.com.
Visit it and you'll find information about famous players, composers, compositions, free music and much more.
With this website I also made the beautiful mug you see below, with Brandenburg Concerto n.6 printed on it. This concerto is special because it has two solo violas and there are no violins! Click on the picture to get a discount code for it.
---
To contact me, go to this page
I help violin & viola players play freely, without pain, injuries and stage fright.
Click here to learn how
---