Book "Stage fright - Its causes and cures with special reference to violin playing"
by Kato Havas

Play free from aches & pains and be happier

Here you can listen to my reading of the book "Stage fright - Its causes and cures with special reference to violin playing" by Kato Havas but I also recommend you to actually read it.
Take one section or one chapter at a time, read it and apply it. Refer to it often as part of your practice.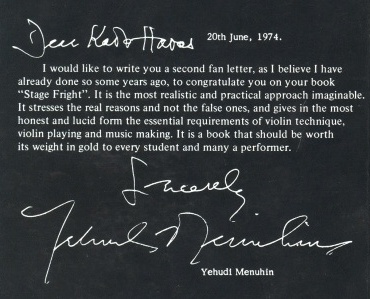 "Dear Kató Havas, I would like… to congratulate you on your book Stage Fright... It is the most realistic and practical approach imaginable… it should be worth its weight in gold to every student and many a performer."

Sir Yehudi Menuhin
Preface to "Stage fright"

Kato Havas is a violin and viola teacher who developed a way to teach and play , the Havas New Approach, to prevent and eliminate aches and pains, physical injuries (tendonitis, tenosynovitis, bursitis etc.) and nerves, stage fright, related to string playing. Read about the Havas New Approach here.

By eliminating physical tension it is possible to eliminate emotional tension, stage fright.
Click here to get informed when I publish the next chapters.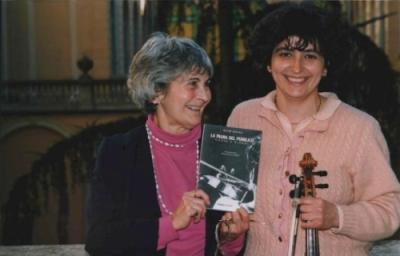 Kato Havas at the presentation of the book Stage Fright in Italian translated by Monica Cuneo, with her in the photo
---
My Presentation of the book
Stage Fright

---
Why I am doing this reading of Kato Havas's book Stage Fright

---
Introduction, by Kato Havas

Kato Havas's background, how she arrive to writing her book Stage Fright
---

Buy New Approach books       Buy the teaching video - DVD
---
Buy Kato Havas teaching DVD on the prevention and cure of tendonitis and other physical injuries caused by violin and viola playing.

For lessons, contact me, I'm based in Oxford (UK). Also online viola and violin lessons are available.
Descriptions of the books: A New Approach - The twelve lesson course - Stage fright - Causes and cures
Buy the teaching video on DVD
Go to Violin and viola books
Go from Kato Havas to Violin and viola teacher

---
Read about other players' experiences with the
Havas New Approach

What's Your greatest New Approach success? Share your story!
Did you eliminate pain or tendonitis that prevented you from playing? Did you overcome stage fright? Do you find playing easier, more enjoyable? If you are a teacher, what's the best improvement you had with your students who learn to play with the new approach? I'd like to hear it, tell everybody!
Read more comments about online violin and viola lessons
For more information and for lessons:
call Monica Cuneo, mob. (+44) 7985 025129 or skype: monicacuneo or send a message
---
I help violin & viola players play freely, without pain, injuries and stage fright.
Click here to learn how
---