Looking for Bollywood songs for your wedding? Read here, you can have them played live on my viola, which is very much like a violin with a more mellow tone, the viola is even better! Right click to download a brochure or download a list of tunes.

I'm sure you have already thought about adding a special touch with live music. I'd be very happy to help you to make your wedding even more memorable.

Here you can find some ideas for musical entertainment: a list of Bollywood songs suitable for the wedding ceremony and reception, photos of some weddings and music to

listen

to. You'll see that this entertainment can fit any wedding, especially if yours is in a small venue or with a small group of guests or you don't want to spend a lot with many players.





Propose to your girlfriend

Even before your wedding, you can have music to

propose to your girlfriend

, or for

Saint Valentine's day

! Surprise her with her favourite tune, maybe in an unusual location like this one in the photo below, London's Trafalgar Square and see her reaction!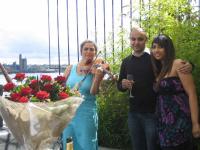 Here I played for an Indian couple at

The Gun

in London, the historical pub with a romantic view of the river Thames, where Horatio Nelson used to go and meet Lady Emma Hamilton.



"Monica,




Many thanks for yesterday. You really helped make yesterday a special day for Ria and I."




Kind Regards




Ket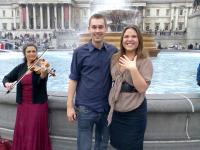 ""

Andrew Norton



---

Ghajini played at the couple's entrance
Which instruments
for your wedding music?
Many times, when a couple organizes its wedding, they don't know where to find musicians. Very common options for wedding music (there are many agencies providing musicians for weddings), both

ceremony

and

reception

, can be a

string quartet

, that is usually composed of four string players (2 violins, viola and cello, with some variations).

The down side of these is that a quartet, four players are more expensive than one and if you go with an agency they will, rightly, charge their share.

So, having considered the issues that couples face, if you are looking for some wedding music in Oxford or around it, you may want to consider a soloist playing an easily movable instrument, maybe you're looking for a violinist, so what about...

Something different
So, you'd like to have something different, unusual? Then a solo viola is the answer (most people would say "violin" when they see it). The viola has a warm, mellow tone and once you hear it you'll love it. At your ceremony and reception you can have a variety of Bollywood songs, they sound really nice on violin or viola and I can play your favourite tune. If I don't know it, I'll learn it at no extra charge! Also being the viola a portable instrument, it can be easily moved around the venue.

List of Bollywood Songs for Indian, Asian weddings

Here are some

Bollywood

songs I play. You can choose your favourite ones for your wedding. So you too can have some of the

Bollywood

songs played on the viola. Watch the videos and listen to the original songs (they will open in a new window)

SLOW SONGS



Just ask for your favourite tune, I'll play it for you!





---
Example of civil wedding ceremony music


As the guests arrive
While your friends and family gather in the ceremony hall, I'd play some of the above songs to entertain them.
The Bridal procession
Signing of the Register
Recession
These are simply some ideas, you can choose to have the same or other songs performed at different times during the ceremony.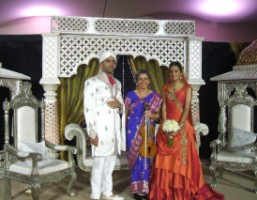 ---
Click here to book your wedding Bollywood songs or call (UK) 07985 025129.
An Indian wedding with
popular Indian
music,
wedding
Bollywood
songs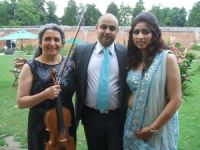 "Monica,
Thanks for making our wedding so special.
Regards
Ket"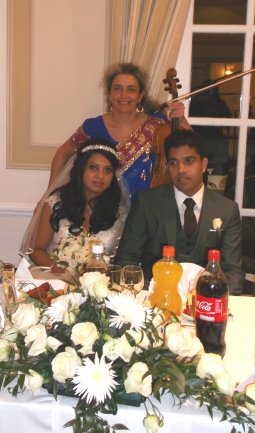 Wedding Bollywood songs for other receptions
---

Have you ever thought about celebrating a big

wedding anniversary

? You could use the above ideas for a party for a 50th wedding anniversary music (or 10th, 25th...?), for example.


---
How much?
So you're wondering, how much are my wedding Bollywood songs going to cost me?
Minimum booking: 1 hour. My fee for wedding music in Oxford starts from only £150. However, the longer the booking, the cheaper it becomes, proportionally. Ask for details.

1 hour.

This is enough for the

ceremony

only, including music played at
- the

arrival of guests

to entertain them
- the

bridal entrance


- the

signing

of register
- the

recession

and for some time


- after the celebration itself, when everybody leaves the church or the hall, congratulates the couple etc.,

while taking photos or during a short drinks reception
- or

Drinks reception

only


2 hours

.

Ceremony

+

drinks reception

/buffet breakfast/lunch

3 hours

.

Ceremony

+

long reception
Also, if you need wedding music in Oxford or around it, by choosing a wedding musician in this area you'll save on travel expenses. I could also meet you in person to talk about final details.
Anyway, whatever your budget and the style you choose, I'd recommend you to always book professional musicians, performers who have experience and will really help you to organise your wedding music with the most suitable pieces.

After all, this is a day you'll remember for all your life and your wedding musician will really contribute to make it more memorable.

---



Thanks for your visit, contact me for more information to book your Bollywood songs or call: (UK) 07985 025129



Go to Wedding music in Oxford for classical music and folk music


Go from Bollywood songs to Wedding music ideas for more general information about music for weddings


For some ideas about where to celebrate your wedding in and around Oxford, go from Bollywood songs to Wedding venues

Go from Bollywood songs to Classical music entertainment





---

Tel.07985 025129 - 01865 669020
Oxford, Oxfordshire, UK

Dear Monica,
we just wanted to thank you again for having played at our wedding, contributing to make the ceremony such a special event!

All guests agreed that you created a fantastic atmosphere, bringing beautiful music in the room with a great performance both in terms of selection and delivery. We'd also like to thank you for having been such a nice person to talk during the pre-wedding arrangements, which gave us confidence that everything would have been good according to plans.

All the best for the future!
Kind Regards,
Cinthia & Roberto!"
see email