After going through different paths in their musical careers, I met the violin player Caroline Duffner met in the beautiful inspiring Oxford and, following our common views on music making, decided to form a duo concertante to explore and specialise in the unusual yet rich and charming repertoire of Sinfonia Concertante (or Double Concerto) for violin, viola and orchestra.
Sinfonia Concertante or
Concerto for more instruments
Many composers wrote more than a sinfonia concertante or concerto for violin, viola and orchestra, from the
baroque
Graun, to the composers of the
classical
era Stamitz, Mozart, Pleyel, to the late
romantic
Max Bruch, to the
20th century
's composers Benjamin Britten and Arthur Benjamin.
From the baroque era there are many examples of concertos for more instruments, it was a very common type of composition. You can find concertos by Vivaldi, Telemann, Bach, to name only the most famous ones.
The composition with the name Sinfonia Concertante was a genre very well in fashion in the second half of the 18th century, especially in Paris and Mannheim, where there was a very good and famed orchestra.
Mozart himself had the opportunity to hear several of these works when he stayed in Paris in 1778 and composed a sinfonia concertante for wind instruments, one for violin, viola, cello and orchestra (only fragments survived) and the
most famous
one for violin, viola and orchestra which is of our interest here.
Mozart's is virtually the only sinfonia concertante which is performed rather frequently, quite rightly because it is a wonderful work. Still, we found a few more works which are interesting and deserve being performed and listened to.
To me, the most interesting and fascinating aspect of concertos with more solo instruments is the special dialogue which is created between the soloists, just like a conversation, and between the soloists and the orchestra.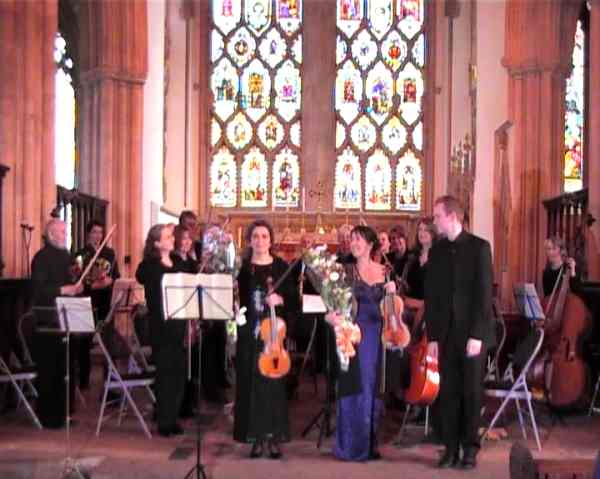 A performance of the Sinfonia concertante for violin, viola and orchestra by Mozart in Dorchester Abbey, Oxford

In the romantic era, composers still wrote some concertos for more than one solo instrument, the most famous examples are Beethoven's triple concerto for violin, cello and piano and Brahms double concerto for violin and cello.
So, why not add something different to concert programme? Call us for more information about some of these works, there are different styles from different times: from the baroque Graun, to the classical Stamitz, Mozart, Pleyel, to the late romantic Max Bruch, to the 20th century's Benjamin Britten and Arthur Benjamin.
Violin and viola duo
Besides playing sinfonia concertante for violin, viola and orchestra, we also have prepared a concert programme of duos and duo concertante for violin and viola. These too have been hand picked by us to represent various musical periods: therefore we have works by Bach, Handel-Halvorsen, Mozart, Stamitz, Ignaz Pleyel, Hoffmeister, Antonio Bartolomeo Bruni, Spohr, Alessandro Rolla, Martinu and more in preparation. Most of these compositions are originally written for violin and viola, while we also chose some which are interesting arrangements (and we even have our own special arrangement for violin and viola of a piece by Paganini, who played both instruments... a surprise).

This programme is ideal for a chamber music concert, or for a smaller venue, and offers a mix of melodic, singing themes and the opportunity for a bit of virtuoso show off.


To contact about a performance or for more information, call: (+44) 07985 025129 or use the form on this page
---
Go from Violin, viola and orchestra to the Home page
---