I will run another workshop on the New Approach, in San Ferdinando, in Italy, near

Reggio Calabria

, for string players, based on Kató Havas. The New Approach is spreading there

!



Find out how to eliminate tendonitis, tensions and aches and pains or


stage fright

which is

praticamente the most widespread problem among players, in addition to varous aches and pains, tensions and

even

tendinitis that occur

playing violin and, even more, the viola, and other instruments and how to

improve

your tone instantly!

This way you'll be able to

express yoursel more freely through music

.

The workshop will take place from

Thursday

19

to Sunday 22

July

2012

, in the morning

, organized by the Cultural

Association

"Musica Insieme... e per tutti". Together with the New Approach

course

, the

association

runs several other

course

s in ths

period, from mid July to the end of the month: opera singing, violin, viola, cello, chamber music, therefore, if you wish, you can take part in more than one because they take place at different times.




San Ferdinando is right by the sea, so I think there will definitely be also the opportunity for some baths to restore yourself from the toils of so much musical study!

The organization of the workshop is due to the very kind Chiara Capria, whom I warmly thank.
---
Enlarge map
---
So many players spend years suffering because of aches and pains and even tendonitis and similar ailments in their arms, neck, shoulders, back, wrists, hands, carpal tunnel syndrome etc.; they stop playing and start again, some even undergo operations and then stop playing altogether, not to mention emotional tension that affliicts nearly everybody…
It's really a shame because it is possible to eliminate tendonitis and other nuisances that afflict players, in a very simple way, knowing the correct movements to do while playing: simple things that could help you improve your tone instantly, increase your ease, your agility in playing also by heart, eliminate insecurity and therefore anxiety, stage fright.


---
The

workshop on the New Approach, in San Ferdinando is organized

for string instruments palyers,

di strumento ad arco, violin and viola in particular

.


---
The New Approach was developed starting from the violin and addresses violinists and violists in particular, although many of its principles

can be applied also to other instruments

, as you can see from the photos of previous workshops.



Course fee: €280.000





For further information and to register righr click to download the very detailed flyer, with the description of all courses, registration form, information on travel and accommodation as well as telephone numbers and e-mail addresses.
---
You too can organize a workshop, read here how to do

To learn more about the New Approach by Kato Havas:

Watch Kato Havas' workshop, with videos
Teaching DVD: causes and cures of physical injuries and anxiety
Violin and viola books
---
Send your e-mail address and name to receive information on next workshops



---
Go from

New Approach Workshop in Sassari

to

Kató Havas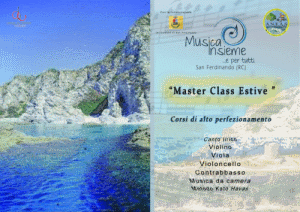 The

flyer

of the

workshop on the New Approach, in San Ferdinando

Previous workshops

Send your e-mail address and name to receive information on next workshops